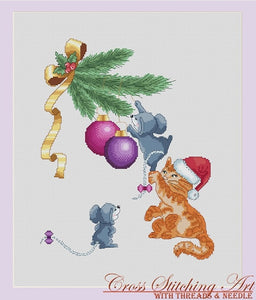 "Stitch these cute Santa's helpers as they make temporary peace and join forces to help decorate a Christmas tree."
This design is sold as a digital PDF chart which is emailed to your email account within 24 - 48 hours of purchase. Due to many copyright infringements online the PDF chart will be personalized for each customer and will have the name embedded as a watermark. Thank you for your understanding and support of the original charts! 
Finished size: 10.50" x 13.29" inches or 26.67 x 33.75 cm on 14 count Aida or 28 count Linen.
Finished size: 9.19" x 11.63" inches or 23.34 x 29.53 cm on 16 count Aida or 32 count Linen.
Stitched area: 147 x 186. 
Please add 2 extra inches on each side for framing to the finished size.
Materials used: 
DMC color list 42 colors: 208; 209; 210; 211; 320; 326; 327; 368; 434; 543; 550; 676; 680; 718; 729; 745; 746; 760; 775; 777; 890; 915; 917; 918; 931; 932; 966; 967; 976; 977; 3607; 3608; 3609; 3712; 3713; 3750; 3752; 3756; 3799; 3827; 3832; BLANC