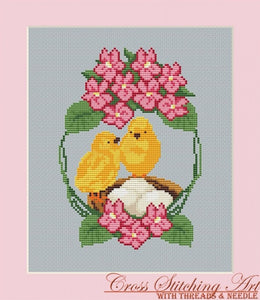 "Stitch these two adorable feathered parents as they share a peaceful moment together under the bright spring sky and blooming flowers."
Fabric suggestion: 28 count linen, ice blue.
Finished Size: 5.00" x 7.07" or 12.70 x 17.96 cm if stitched on 28 ct. linen or 14 ct. Aida
Finished Size: 4.38" x 6.19" or 11.11 x 15.72 cm if stitched on 32 ct. linen or 16 ct. Aida
Stitched Area: 70 H X 99 V
Please add 2 extra inches on each side for framing to the finished size.
Materials used:
DMC Threads: 20 colors.