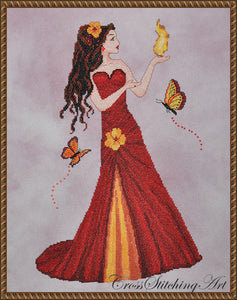 "We are excited to present to you the elegant design of a beautiful and majestic ""Queen of Fire"". She is the ruler of the one of four elements. Her beautiful skin tone reflects flames light as green eyed beauty graciously plays with powerful fire. Bright, colorful butterflies, her faithful companions leave warm traces with their vivid tailes. Long wavy hair is embellished with wonderful little treasures while royal dress folds sparkle with metallics."
This design can be purchased as a printed chart or as a PDF chart. You can save on shipping costs by choosing a digital PDF chart which will be emailed to your email account within 24 - 48 hours of purchase. Due to many copyright infringements online the PDF chart will be personalized for each customer and will have the name embedded as a watermark. Thank you for your understanding and for your support of the original charts! 
The "Queen of Fire" model is stitched on 28 count Jobelan "Marbelled Rose". This design is suitable for Aida fabrics.
Finished size: 10.07" x 14.93" inches or 25.58 x 37.92 cm on 28 count or 14 count.
Finished size:  8.81" x 13.06" inches or 22.38 x 33.18 cm on 32 count or 16 count. 
Stitched Area:  141 x 209 . Stitched 2 over 2.
Please add 2 extra inches on each side for framing to the finished size.
Materials used:
DMC color list 32 colors: 355; 300; 817; 3777; 3857; 3778; 3346; 822; 742; 310; 632; 3371; 740; 307; 783; 3078; 435; 3772; 725; 726; 3852; 3765; 898; 918; 758; 948; 967; 921; 922; 3853; 3854; 754
Kreinik metallics blending filament 1 color: 061
Mill Hill beads 2 packs: 00423; 02013