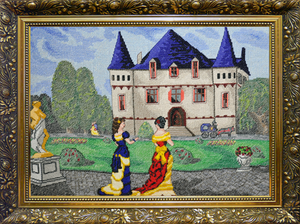 This design is sold as a digital PDF chart which is emailed to your email account within 24 - 48 hours of purchase. Due to many copyright infringements online, the PDF chart will be personalized for each customer and will have the name embedded as a watermark. Thank you for your understanding and support of the original charts! 

Finished size:  13.06 x 9.56 inches or 33.16 x 24.27 cm on 18 count Aida.
Finished size: 14.69 x 10.75 inches or 37.31 x 27.30 cm on 16 count Aida.
Stitched area: 235 x 172. 
Please add 2 extra inches on each side for framing to the finished size.
Materials used: 
DMC colour list 54 colours: 169; 310; 317; 351; 353; 367; 413; 414; 444; 535; 543; 580; 632; 648; 699; 700; 701; 702; 734; 745; 754; 762; 783; 791; 792; 798; 799; 800; 809; 815; 817; 820; 823; 841; 842; 890; 934; 935; 936; 938; 939; 948; 3021; 3031; 3371; 3721; 3819; 3823; 3824; 3852; 3855; 3857; 3862