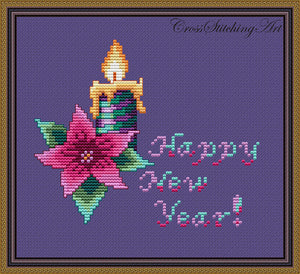 "Winter Glow" is lovely cross stitch pattern that is my gift to all of you for New Years' Eve time. This pattern is free and available for instant download in PFD format. Merry Christmas and Happy New Year!
Fabric suggestions: Suitable for any count of linen and Aida fabrics 

Finished Size: 4.81" X 4.00" or 12.22 x 10.16 cm if stitched on 32 ct. or 16 ct.
Finished Size: 5.50" X 4.57" or 13.97 x 11.61 cm if stitched on 28 ct. or 14 ct.
Stitched Area: 77 H X 64 V
Materials Used:
DMC Threads: 23 colors
211; 320; 550; 552; 554; 677; 814; 915; 964; 966; 3608; 3609; 3805; 3806; 3808; 3823; 3827; 3847; 3850; 3853; 3854; 3855; 3865