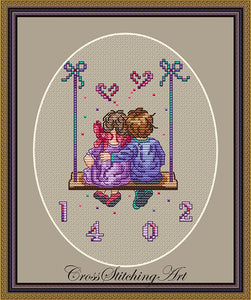 Surprise your significant other with the adorable hand stitched project this Saint Valentine's Day!
This design is sold as a digital PDF chart which is emailed to your email account within 24 - 48 hours of purchase. Due to many copyright infringements online the PDF chart will be personalized for each customer and will have the name embedded as a watermark. Thank you for your understanding and support of the original charts! 
Finished size: 3.38" x 4.63" inches or 8.57 x 11.75 cm on 16 count Aida or 32 count Linen.
Finished size: 3.86" x 5.29" inches or 9.80 x 13.43 cm on 14 count Aida or 28 count Linen.
Stitched area: 54 x 74. 
Please add 2 extra inches on each side for framing to the finished size.
Materials used: 
DMC color list 28 colors: 208; 209; 210; 211; 317; 335; 340; 341; 434; 435; 550; 600; 632; 738; 754; 801; 814; 840; 841; 842; 894; 938; 948; 959; 967; 3746; 3747; 3799